What Did The Pandemic Teach Us About Friendship? ft. Dhruv Sehgal & Sumukhi Suresh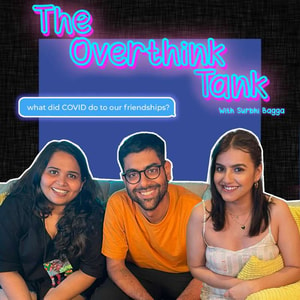 We overthink the friendship lessons we learnt during the pandemic.
Did the pandemic make you Marie Kondo your mates? Is "meme-tagging" the sixth love language? What does the future of friendship look like?
On this hot off the tawa episode, Surbhi is joined by Sumukhi Suresh (actor, comedian, friendship-tease) and Dhruv Sehgal (actor, screenwriter, meme-hoarder). Together they overthink how our friendships changed, fizzled and broke during the pandemic.
Listen in.
➭ Join our Patreon : https://www.patreon.com/join/THEOVERTHINKTANK
➭ If you liked the episode - please rate/review us on Apple Podcasts. We need them sweet sweet likes!
➭ Follow us on Instagram & Twitter. We are @theoverthinkpod
➭ Hosted by comedian, writer and certifiable overthinker - Surbhi Bagga. Hang with me in-between uploads on my Instagram: @surbhi.bagga
Podcast Producer: Jessica D'mello
Recorded at: Subculture Studios
Find out more at https://the-overthink-tank.pinecast.co