How To Not Get Cancelled ft. Ashish Shakya and Priyanka Khimani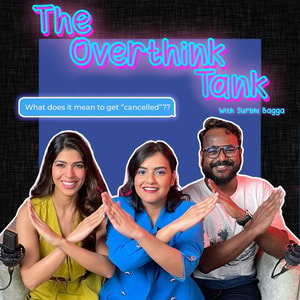 We overthink what it means to get cancelled on the internet.
Hello Overthinkers ™ Today's discussion is yet another suh-lippery slope!
What does "problematic" even mean? What happens in between "problematic" and "cancelled"? When it comes to our faves — how do we consume art and culture responsibly? When Kanye comes on at the club, do you stop dancing?
We've all had an "oops" moment, but with the power of social media, the consequences of that moment could lead to some tricky places.
We'll be brave and try to figure it all out in this episode of The Overthink Tank, with comedian/wise-uncle Ashish Shakya and entertainment lawyer Priyanka Khimani.
Listen in.
Learn more about cancel culture: Contra Points : https://www.youtube.com/watch?v=OjMPJVmXxV8&t=154s
The Long and Tortured History Of Cancel Culture: https://www.nytimes.com/2020/12/03/t-magazine/cancel-culture-history.html
➭ Join our Patreon : https://www.patreon.com/join/THEOVERTHINKTANK
➭ If you liked the episode - please rate/review us on Apple Podcasts. We need them sweet sweet likes!
➭ Follow us on Instagram & Twitter. We are @theoverthinkpod
➭ Hosted by comedian, writer and certifiable overthinker - Surbhi Bagga. Hang with me in-between uploads on my Instagram: @surbhi.bagga
Podcast Producer: Jessica D'mello
Recorded at: Subculture Studios
Find out more at https://the-overthink-tank.pinecast.co