Can A Relationship Ever Be 10/10? ft. Kusha Kapila & Karan Sareen
We overthink the idea of a perfect relationship and why it's flawed.
3 months ago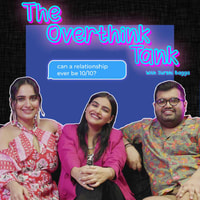 Hello Overthinkers! Why aren't stable relationships sexy? Does "the one" really exist? Is there such a thing as a "perfect relationship"?
On this episode, Surbhi is joined by Kusha Kapila and Karan Sareen to overthink everything Modern Love. We talk using Instagram as a dating app, modern marriages, making it work and more.
Don't miss Kusha and Karan hitting on you with helium in the video version on our Youtube channel!
Modern Love Season 2 is now out on Amazon Prime Video. Comment below and tell me which one of the stories made you cry like a baby ? I'll go first, ALL OF THEM.
Disclaimer: The Overthink Tank is for entertainment purposes only and is not a substitute for actual therapeutic advice.
Find out more at https://the-overthink-tank.pinecast.co
Sponsored by: Amazon Prime Video
Find out more at https://the-overthink-tank.pinecast.co