How To Break-Up Like An Adult? ft. Komal Pandey and Sejal Kumar
We overthink breakups, makeups and everything in between.
8 months ago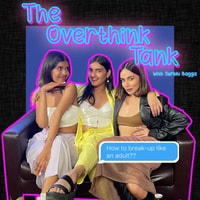 waddup season 4!!!! welcome back overthinkers™
Every breakup feels different. there is no one way to go about it. Some breakups feel insignificant and others give us trust issues for the rest of our lives! Yay?
On this episode, we are overthinking everything you've ever wanted to know about breaking-up and still haven't learned, even though you're an adult now. Our expert panel includes Komal Pandey and Sejal Kumar. We talk about our first ever heartbreaks, navigating a public relationship, healing from getting cheated-on and Do you really want closure or just an excuse to talk to them?!
Listen in.
Turns out making a podcast requires more hours and money than we had thought. Consider making a donation if you want to help us keep this one going.
➭ Join our Patreon : https://www.patreon.com/join/THEOVERTHINKTANK
If you liked the episode - please rate/review us on Apple Podcasts. We need them sweet sweet likes!
Follow us on Instagram & Twitter. We are @theoverthinkpod
Hosted by comedian, writer and certifiable overthinker - Surbhi Bagga. Send her a emoji on Instagram: @surbhi.bagga
Assistant Producer: Sejal Mehra Recorded at: Trifecta Studios
Find out more at https://the-overthink-tank.pinecast.co
FRESH EPISODES EVERY THURSDAY Youtube video out every Saturday!
Find out more at https://the-overthink-tank.pinecast.co