Why Is Dating So Exhausting? feat. Dolly Singh & Swati Sachdeva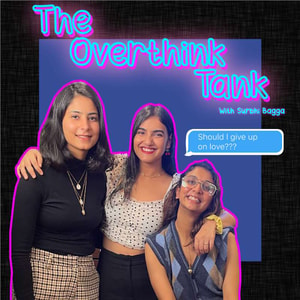 We overthink dating fatigue and the pressure of finding "THE ONE"
me: downloads a dating app
24 hours later: deletes the dating app
Hello Overthinkers! I talk about dating a lot on this podcast but that's probably because I date quite a lot. There is just one tiny problem. It. Is. So. Exhausting!
On this episode, we roped in the brilliant actor/comedian Dolly Singh along with the hilarious comedian Swati Sachdeva to overthink dating-app fatigue, the pressure of finding "the one" and the concept of "slow-dating"
Dating can feel like an unhappy repetition of the same old frustrating experiences. In this episode, you'll find the hope it sometimes feels like you've lost. Listen in!
➭ Join our Patreon : https://www.patreon.com/join/THEOVERTHINKTANK
If you liked the episode - please rate/review us on Apple Podcasts. We need them sweet sweet likes!
Follow us on Instagram & Twitter. We are @theoverthinkpod
Hosted by comedian, writer and certifiable overthinker - Surbhi Bagga. Send her a emoji on Instagram: @surbhi.bagga
Assistant Producer: Sejal Mehra Recorded at: Trifecta Studios
Find out more at https://the-overthink-tank.pinecast.co
Youtube video out every Saturday!
Disclaimer: The Overthink Tank is for entertainment purposes only and is not a substitute for actual therapeutic advice.
Find out more at https://the-overthink-tank.pinecast.co