How To Brag About Yourself When You're Bad At Bragging? ft. Divija Bhasin & Sejal Mehra
We overthink the art of shameless self-promotion.
1 month ago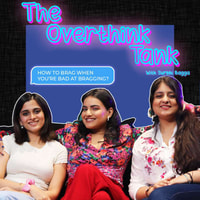 https://www.mindsfoundation.org/counseling
One thing that makes most people uncomfortable is having to talk about themselves. Whether it be a job interview or a first date. But what if bragging is a good thing? In this episode of The Overthink Tank, Surbhi is joined by friendly neighbourhood therapist Divija Bhasin and comedian Sejal Mehra. Together we overthink how to promote ourselves and our work, without feeling bad or wanting to projectile vomit!
AD
Each week this month, The Overthink Tank is partnering with the Fiama Feel Good Sessions to look at ways to live a more joyful life. This is a paid partnership.
➭ Join our Patreon : https://www.patreon.com/join/THEOVERTHINKTANK
If you liked the episode - please rate/review us on Apple Podcasts. We need them sweet sweet likes!
Follow us on Instagram & Twitter. We are @theoverthinkpod
Hosted by comedian, writer and certifiable overthinker - Surbhi Bagga. Send her a emoji on Instagram: @surbhi.bagga
Assistant Producer: Sejal Mehra Recorded at: Trifecta Studios
Find out more at https://the-overthink-tank.pinecast.co
Disclaimer: The Overthink Tank is for entertainment purposes only and is not a substitute for actual therapeutic advice.
Find out more at https://the-overthink-tank.pinecast.co