Is "Good Vibes Only" Toxic? ft. Sejal Bhat and Aaliyah Qureishi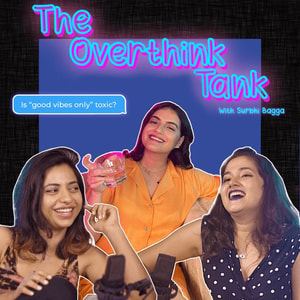 We overthink toxic positivity.
Toxic… it's not just a Britney song.
Hello Overthinkers, on this fresh out of the oven episode, we overthink the pandemic of toxic positivity.
"Good Vibes Only", "Look at the positive side", or "Someone has it worse than you" - we are unpacking it all with my guests, comedian Sejal Bhat and singer-songwriter Aaliyah Qureishi.
Together we try to figure out the line between optimism and toxic positivity, the basics of manifestation & the backwards law and the importance of allowing yourself to feel the entire spectrum of human emotions.
Listen in.
➭ Join our Patreon : https://www.patreon.com/join/THEOVERTHINKTANK
➭ If you liked the episode - please rate/review us on Apple Podcasts. We need them sweet sweet likes!
➭ Follow us on Instagram & Twitter. We are @theoverthinkpod
➭ Hosted by comedian, writer and certifiable overthinker - Surbhi Bagga. Send her a emoji on Instagram: @surbhi.bagga
Podcast Producer: Jessica D'mello Recorded at: Subculture Studios
Find out more at https://the-overthink-tank.pinecast.co
Disclaimer: The Overthink Tank is for entertainment purposes only and is not a substitute for actual therapeutic advice.