Is Social Media Making Me Unhappy? ft. Ranveer Allahbadia and Yashaswini Dayama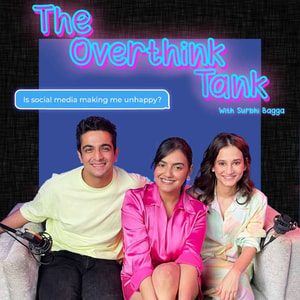 We overthink the emotional minefield that is social media.
Have you found yourself scrolling through Instagram photos of ex-lovers canoodling with someone new? Maybe creating unrealistic standards for your life that's based on someone else's highlight reel? On this episode, Surbhi overthinks how we can create a solid boundary between the URL and the IRL!
Actress & social media maven Yashashwini Dayama along with podcast host & certified Disney Adult Ranveer Allahbadia take the responsibility of being influential very seriously. Together, we overthink our feelings towards social media, and the importance of conscious consumption.
Time to log out and tune in already.
➭ If you liked the episode - please rate/review us on Apple Podcasts. We need them sweet sweet likes!
➭ Follow us on Instagram & Twitter. We are @theoverthinkpod
➭ Hosted by comedian, writer and certifiable overthinker - Surbhi Bagga. Hang with me in-between uploads on my Instagram: @surbhi.bagga
Podcast Producer: Jessica D'mello
Recorded at: Subculture Studios
Find out more at https://the-overthink-tank.pinecast.co